i typically don't deck out my house in so many halloween decorations, but what can i say? i got the crafting bug a couple of days ago and it just made sense. there are two things that make me really happy: crafting and decorating. what could be better than combining the two?!
in my trip to michael's i stumbled upon the cutest patterned scrapbook paper and my wheels started turning. i decided to go with a black, silver and green theme and replace the pictures in our gallery wall with a halloween theme. so i stocked up on cute patterned paper, halloween themed cutouts, stickers, tape and got to work!
really this project is just a matter of cutting the paper to the size of your coordinating frame. it's easy peasy. i took a picture of the current gallery wall on my phone and used it as a reference for deciding on the patterns and colors for each frame. after i cut the paper to size i taped the glittery spiders and webs to add a little something interesting.

i cannot tell you how handy this paper cutter has been in my life! it's an essential in my arsenal of art supplies. one of my favorite elements of the gallery wall is the word "EEK" made from glittery stickers meant to decorate pumpkins. i had other plans for them though. into frames they went!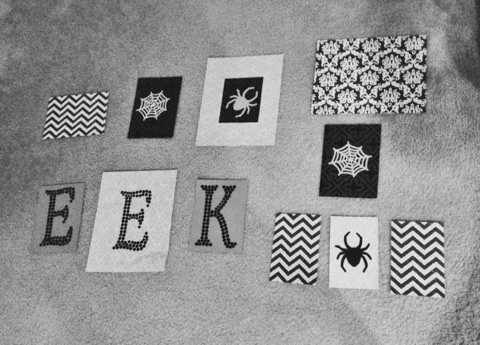 i laid out my design on the floor as i went just to make sure they were going to flow. you don't want to many of the same pattern and color next to eachother. variety is key in a gallery wall! next up, putting them into frames and hanging them. aka, the boring tedious part.
ta-daaa! there you have it, a cheap and easy peasy DIY project that you can complete in a night.
i painted some ceramic skulls and added lots of green glitter to cutesy them up a little bit. they completed the halloween look!